With Prof. Dr. Justin Yifu Lin, Peking University / former Chief Economist of the World Bank

1st Goethe Asia Forum Frankfurt

Moderation: Prof. Dr. Rainer Klump – The event was organized by IZO in collaboration with SAFE and SID Chapter Frankfurt on Monday, 21 January 2019.
To celebrate the 10-year anniversary of the Interdisciplinary Centre for East Asian Studies (IZO), Prof. Lin examined the economics of China's new era. With the age of Western global dominance coming to an end, it is China's time to shine. The potential is certainly there, but to realize it, she will have to confront serious challenges, from domestic supply-side reforms to expanding international responsibilities. In his speech, Prof. Lin critically analyzed China's dual-track transition from a planned to a market economy, focus on recent reforms and their shortcomings and put China's trajectory in comparative perspective.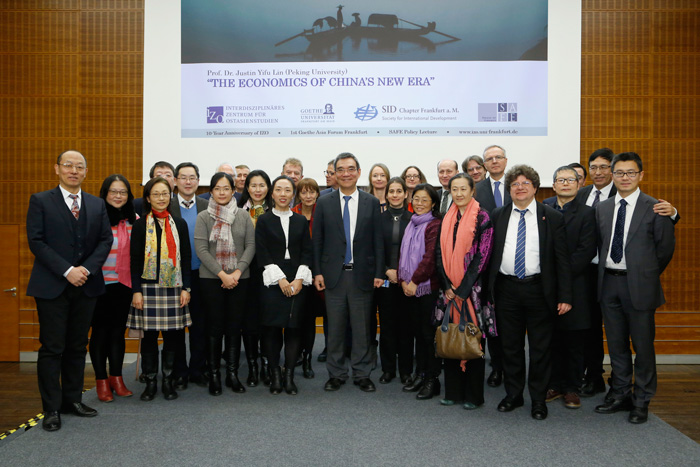 Group picture with Prof. Dr. Justin Yifu Lin, Prof. Rainer Klump. Prof. Dr. Zhiyi Yang and Norbert Noisser. Copyright/Photo: Uwe Dettmar